The USDA's Organic Deception
By Barbara H. Peterson
http://educate-yourself.org/cn/organicdeception09jan11.shtml
Jan. 9, 2011
The USDA's Organic Deception (Jan. 9, 2011)
Organic is organic, or is it? It would seem that it is all a matter of perspective when one takes a stroll through the mountains of documents on the FDA and USDA websites.
The word "organic" is fast becoming a high-dollar money-maker for corporations smart enough to jump on the bandwagon and start marketing their products as "made with organic ingredients," or "certified organic." Even Monsanto is taking advantage of this burgeoning market, and people naïve enough to believe that what we have traditionally thought of as pure, organic food, is still that way, are being duped.
It makes perfect sense, however, in a Machiavellian sort of way. Flood the food supply with poisons, then lead people to believe that the only safe choice left is USDA Certified Organic. Then buy up the organic companies one by one, and start changing the "organic" rules from the inside out via the bought and paid for government agencies so that you can reap the profits from those trying to escape the poisons.
So let's take a closer look at just what the word "organic" refers to according to these government agencies. You might be surprised at what we find. The fact that the very agencies (FDA and USDA), which are supposed to be protecting our organic food supply, are intensely active in its adulteration will become apparent.
What is "Certified Organic?"
In the USDA Certified Organic Program, there are four categories established for labeling purposes:
Section 205.301 establishes the organic content requirements for different labeling provisions specified under this program. The type of labeling and market information that can be used and its placement on different panels of consumer packages and in market information is based on the percentage of organic ingredients in the product. The percentage must reflect the actual weight or fluid volume (excluding water and salt) of the organic ingredients in the product. Four categories of organic content are established: 100 percent organic; 95 percent or more organic; 70 to 95 percent organic; and less than 70 percent organic. (Organic Labeling Preamble)
If an item is labeled 100% Organic, then it is supposed to contain nothing but organic ingredients and processing aids that are organically produced.
Products labeled Certified Organic must contain 95% organic ingredients.
Up to 5 percent of the ingredients may be nonagricultural substances (consistent with the National List) and, if not commercially available in organic form pursuant to section 205.201, nonorganic agricultural products and ingredients in minor amounts (hereinafter referred to as minor ingredients) (spices, flavors, colorings, oils, vitamins, minerals, accessory nutrients, incidental food additives). The nonorganic ingredients must not be produced using excluded methods [GMO], sewage sludge, or ionizing radiation. (Organic Labeling Preamble)
70-95% Organic, labeled "Made with Organic Ingredients," can contain the kitchen sink in the 5-30% of ingredients that are not organic. They can be grown with pesticides, but without the sewage sludge, and cannot be irradiated or genetically modified organisms (GMO).
70% Organic, which is labeled "Contains Organic Ingredients," can contain the kitchen sink along with the pesticides, sewage sludge, irradiation, and GMOs.
Organic Labeling Preamble Chart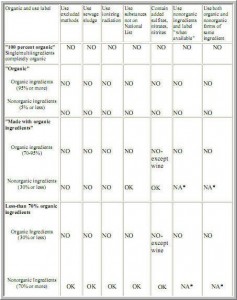 A Matter of Perspective
Let's say that you have a product that you think is better than its conventional counterpart because it has "certified organic" ingredients. So you buy it and think that you are getting healthier because you are eating mostly good, pure food. It is the word "organic" that led you to believe this. However, if an organic ingredient is mixed with conventional ingredients, doesn't it become polluted? It's like putting gasoline in a glass of pure water and charging a premium for that water because it only contains 30% of the contaminant. 30% contamination is probably better than 100%, but would you want to drink it? The whole glass of water is poisoned due to the gasoline, yet the companies selling this product would like you to believe that because it contains pure water it is good. They also know that they can charge you premium prices for that flawed perception.
The FDA and USDA would like us to believe that using "certified organic ingredients" somehow makes the poisons they allow in the other 30% okay, and companies charge through the nose for these adulterated products. It is a matter of perspective. Just how much gasoline in your water are you willing to tolerate just so you can live under the illusion that you are consuming a more pure product? And just how high a price are you willing to pay for it?
Organic Sleight of Hand
"USDA Certified Organic" is a big business, and the deception is great. With a bit of sleight of hand, by simply moving a word around a bit, you have a complete subterfuge.
(1) Use of "Organic" in Product Names. The NOSB, State organic program (SOP) managers, certifying agents, and a large number of individual commenters strongly recommended that USDA prohibit use of the term, "organic," to modify an ingredient in a product name if the ingredient, itself, is not produced organically. The examples offered were "organic chocolate ice cream" and "organic cherry sweets" in which the ice cream and candy are at least 95 percent organic but the chocolate and cherry flavoring is not organically produced.
We agree with commenters that such product names can be misleading and would be a violation of section 205.300(a). In the examples, the word, "organic," precedes the words, "chocolate" and "cherry," and clearly implies that those ingredients are organically produced. The chocolate and cherry flavorings must be organically produced to be used in this way. If the product is at least 95 percent organically produced but the flavoring is nonorganic, the word sequence must be reversed or the word, "flavored," must be added to the name; e.g., "chocolate organic ice cream" or "chocolate flavored organic ice cream." A sentence has been added to section 205.300(a) to specify that the term, "organic," may not be used in a product name to identify an ingredient that is not organically produced. (Organic Labeling Preamble)
So, you see how "organic chocolate ice cream" means that both the chocolate and the ice cream are organic, but if you reverse two words and make it "chocolate organic ice cream," the chocolate is not organic. Or if you are really adept at manipulation, you can actually manufacture "organic beer" with conventional hops, label it "USDA Certified Organic," and charge a premium price for it. See the National List of Allowed and Prohibited Substances, which includes hops as one of the approved non-organic substances allowed in USDA Certified Organic products.
Government Treachery
If the FDA is here to help us instead of make money for its corporate owners, don't you think this agency would demand that labeling be perfectly clear? If the USDA is here to help us, why would it have allowed the gross pollution and treachery that abounds in the National Organics Program (NOP) to have even gotten a foothold in what was the last bastion of safety left in our food supply?
ORGANIC IS ORGANIC. When it is mixed with non-organic ingredients, it is no longer organic, and no amount of agency double-talk will change that. When you play word games to trick people into purchasing something because they see the word "organic" on the label because you have led them to believe it is safe and better than the rest, all in the name of corporate profits, then organic or not, you are one of the bad guys. Period.
Neotame
Wikipedia
Neotame can be included in USDA Certified "Contains Organic Ingredients" without labeling. As I stated in a previous article "USDA Certified Organic's Dirty Little Secret: Neotame," Neotame does not have to be labeled. Period. Why? Because the FDA approved it as a general purpose sweetener, and it is designated as a "flavor, or flavor enhancer." And since it is not a protein hydrolysate, the following applies:
If the flavor consists of two or more ingredients, the label either may declare each ingredient by its common or usual name or may state "All flavor ingredients contained in this product are approved for use in a regulation of the Food and Drug Administration." Any flavor ingredient not contained in one of these regulations, and any nonflavor ingredient, shall be separately listed on the label. (FDA)
A document taken from the FDA site even states that pre-approval studies indicated that Neotame is not safe, yet it "was approved by the Food and Drug Administration (FDA) for general use in July 2002" (Wikipedia).
Sweetos
Enter Sweetos. Sweetos is Neotame. It was created for human and animal use.
EnSigns Health Care Pvt Ltd and The NutraSweet Co USA have recently launched 'Sweetos', a cattle feed sweetener. Sweetos has been developed with neotame, a high intensity sweetener.
Amino acids based sweetener Neotame is 8,000 to 13,000 times sweeter than sugar and is a patented product of the NutraSweet Co USA. Ensigns is one of the leading manufacturers of Sweetos, low calorie sweeteners for the food industry. Together the two companies have launched this sweetener to be added to cattle feed. (Business Standard)
Organic livestock feed uses a similar type of labeling system as human food.
(c) Products sold, labeled, or represented as "made with organic (specified ingredients or food group(s))." Multiingredient agricultural product sold, labeled, or represented as "made with organic (specified ingredients or food group(s))" must contain (by weight or fluid volume, excluding water and salt) at least 70 percent organically produced ingredients which are produced and handled pursuant to requirements in subpart C of this part. No ingredients may be produced using prohibited practices specified in paragraphs (f)(1), (2), and (3) of §205.301. Nonorganic ingredients may be produced without regard to paragraphs (f)(4), (5), (6), and (7) of §205.301. If labeled as containing organically produced ingredients or food groups, such product must be labeled pursuant to §205.304.
(d) Products with less than 70 percent organically produced ingredients. The organic ingredients in multiingredient agricultural product containing less than 70 percent organically produced ingredients (by weight or fluid volume, excluding water and salt) must be produced and handled pursuant to requirements in subpart C of this part. The nonorganic ingredients may be produced and handled without regard to the requirements of this part. Multiingredient agricultural product containing less than 70 percent organically produced ingredients may represent the organic nature of the product only as provided in §205.305. (GPO Access)
As in human food regulations, the non-organic ingredients in "Made with Organic Ingredients" and "Contains Organic Ingredients" can contain the kitchen sink.
The question must be asked: Do we really want our cattle to be consuming feed that is made with a neurotoxin? How will it affect the animals that eat it? And just how will eating these animals affect us?
Endless Compromise
When did we learn to accept anything less than the best? When did we acquiesce to inferiority? To the endless compromise of our food supply? Why do we think that we somehow deserve to be robbed blind, lied to, poisoned for profit, and cheated every step of the way by the corrupt corporate system that acts like a black hole – sucking in everything and giving nothing back in return except abject misery? And why do we seem to like it? Why do we keep going back for more instead of ridding ourselves of these pariahs? Do you really want to know why? Because we have been trained that way! That's why we accept "organic beer" made with conventional hops, and USDA Certified "made with organic ingredients" food items that have been poisoned with the likes of Neotame. We accept these things because we have been conditioned to think that this is somehow okay. It's time to change our way of thinking.
It's time to stop bowing to multi-national corporations who may or may not be what we think they are. Know your food producer. Know what you are eating. Become a food warrior, and fight for the right to not be deceived. Know how to read labels and figure out what the ingredients really are. The more people that wake up to the reality that we are surrounded by people who could care less about our health and are actually out to do us harm as long as they can profit by it, the better our chances of survival. Make no mistake about it. We are in a food war, and that is a war for our very lives.
© 2010 Barbara H. Peterson