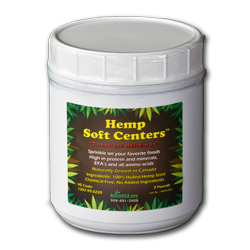 Hemp Seed Soft Centers
Out of the over 3 million edible plants on our planet, no other single plant source can compare with the nutritional value of the hemp seed. Both the complete protein and the essential oils contained in the hemp seed are in ideal ratios for human nutrition. Sixty-five percent (65%) of the protein content in hemp seed is in the form of globulin edestin, so that it can actually be used by the body in its raw state, unlike that of soy beans, which have to be cooked or sprouted. The word edestin comes from the Greek edestos, meaning edible.  Hemp Seeds are Nature's Perfect Food.
Soft Centers™ are one of nature's most perfect foods. With a pleasant nut-like flavor and creamy texture, our Soft Centers™ are a nutritious and delightful addition to cereals, salads and baked goods. Soft Centers™ are high in Omega-3 and Omega-6 essential fatty acids and an excellent source of protein- containing all of the essential amino acids.
The nutritional composition of hulled hemp seeds is exceptional providing an excellent source of essential fatty acids (36-39%), protein/essential amino acids (30-35%), carbohydrates, dietary fiber and an interesting array of vitamins and minerals. Canadian grown whole hemp seeds are hulled (shelled) in our state-of-the-art hemp seed processing facility.
HempUSA.org hulled hemp seeds have a flavorful "nutty" taste. Sprinkle them on pasta, salads, cereal and yogurt or use them in a variety of recipes including soups, sauces, baked goods, nutrition bars, and ice cream. Hulled hemp seeds are a nutritious and delicious snack – straight from the pouch! They can be used in stir-fry's, stews and in muesli. Soft Centers™ add a nutty flavor to breads, muffins, cookies and other foods.
Hemp Soft Centers™ are absolutely the best of its kind. It is Naturally grown, raw and 100% THC-free! None of the goodness has been taken out; none of the live enzymes have been killed. Nutty, tasty, rich, delicious We've taken the best part of the hemp seed, the inner nut, removed the hard shell and sealed it in a modified atmosphere package to lock in its freshness. We offer 1 pound pails and 5 pound cartons. Larger quantities available please contact us for a quote.
Suggested Use is 2-4 Tablespoons taken daily as the minimum suggested serving. You can use as much as you like as an additive to foods or in recipes. Hemp Soft Centers are a complete food.  You may refrigerate after opening but it is not necessary unless you are in a very warm and humid environment.
Ingredients: 100% Shelled Hemp Seed (Hemp Soft Centers™)
Legal Disclaimer: This information is intended for your general knowledge only and is not a substitute for professional medical advice or treatment for specific medical conditions. This information is not intended to diagnose, treat, cure or prevent any disease. Always seek the advice of your qualified physician or other health care provider with any questions you may have regarding a medical condition. Never disregard or delay in seeking medical advice.