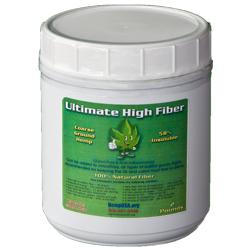 Ultimate High Fiber Hemp
Ultimate High Fiber™(Course Ground Hemp)
Dietary fiber can be divided into two main types: soluble and insoluble. Soluble fiber forms a viscous gel. Insoluble fibers do not form gels and move through the GI tract largely intact.
Ultimate High Fiber is one of the highest naturally occurring sources of insoluble fiber available. Ultimate High Fiber can be added to smoothies and all types of baked goods. It is highly recommended for keeping the GI and colon track clean of debris.
Ultimate High Fiber™ has a long shelf life and is excellent for storage shelters. After the seed has been pressed for oil it is then crushed for flour and ground into protein powder. The powder that is left is a course hemp fiber powder, high in insoluble and soluble Protein – EFA's – Iron – Manganese Copper and all Vitamins and Minerals from a plant source.
A 32 gram serving of Ultimate High Fiber™ provides the following nutrition:
Dietary fiber – 20 grams or 83% of the Daily Value
Iron – 25% of the RDI
Magnesium – 35% of the RDI
Manganese – 160% of the RDI
Copper – 25% of the RDI
Zinc – 15% of the RDI
Phosphorus – 15% of the RDI
Vitamin B6 – 5% of the RDI
130 Calories
Low in saturated fats – <1 gram per serving
Zero trans fat and zero cholesterol
Free from sodium, gluten, lactose and nuts
Legal Disclaimer: This information is intended for your general knowledge only and is not a substitute for professional medical advice or treatment for specific medical conditions. This information is not intended to diagnose, treat, cure or prevent any disease. Always seek the advice of your qualified physician or other health care provider with any questions you may have regarding a medical condition. Never disregard or delay in seeking medical advice.